Green Man Wisdom: Seek wisdom in the depths
This weeks Green Man Tree Oracle Card is the Hazel, with the Ogham, Coll.  The first thing I noticed when I went looking on the Internet for the images below, were the words: Goddess Tree. I found the image and this site, full of information.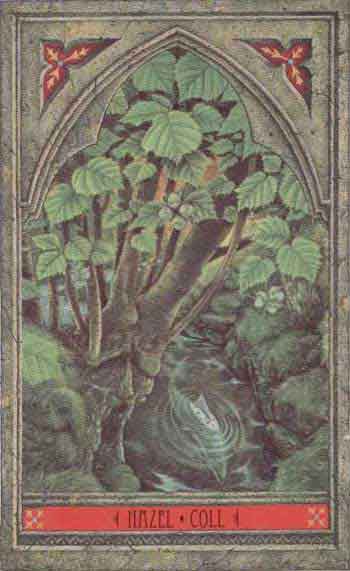 But before I spend a little time reading that site, I though about what Hazel means to me. Firstly, it's a girl's name, it's a tree (well, duh!) and it's used for making all sorts of things from fishing baskets to plant support frames to besoms. It's quite versatile, bendable, malleable. It's not just a tree, it's a useful tree! It's a tree I want in my garden, once more of the conifers have been removed. That however is another story.
The Ogham is interesting. Here it is, for you to see.
As you can see, it had four rungs, like a ladder, branching, reaching out, just like a Hazel does.
And so, I turn at last to the book. The first line is: "Wisdom is much harder to find than knowledge." Really?! No kidding on that one!  But that's what Hazel is saying: Dig deeper into your store of wisdom, the genetics we were all born with, the infinite answers we all hold inside ourselves. We already have the wisdom there! We just need to apply it and use it to illuminate our very actions.
Well, okay, but how long does one have in most situations, in this modern world, to do just that? You're lucky these days if you can find the time to breath and if you can, there's a broom to sweep the floor on the way around!
But take the time to sit by a Hazel tree, enjoy hazel nuts. They're one of my favourites, so I should be quite wise, no? Ha, I wish! Enjoy and I shall have to look out for a Hazel tree in my park tomorrow. If not, I can visit my neighbours and ask to see theirs. I should put a Hazel tree on my birthday wish list: but once the damned conifers have been taken down.
Green Man Tree Oracle : Hazel ~ Coll