Green Man Tree Wisdom: Safe in the Knowledge of protection
This weeks Green Man Tree Oracle comes to us in the shape of the Rowan tree. I love this tree, I already knew it was a tree of protection, which is why I planted one in the garden six years or so ago and one sapling last year near the front of the house.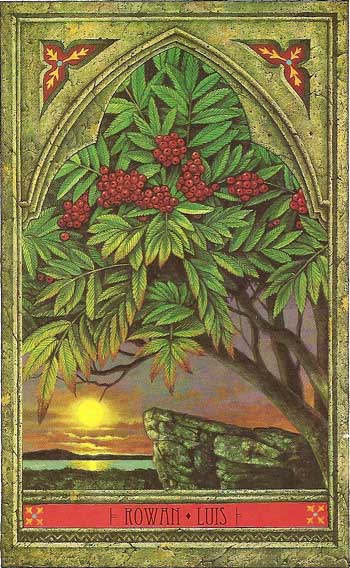 There are quite a few in the park and in gardens around this area. I doubt many know that it offers protection and is also known as The Goddess Tree.
Now, the first thing we have to consider is the word: Protection. Who do you rely on for protection? Do you believe in the one God, or Gods, Angels, Spirits? Now, who relies on you for protection?
We all need protection from time to time, we'd be foolish to think otherwise. The Rowan tree offers its shield to protect us from harm when we're faced with an adversary. The Druids used it to gain higher wisdom. They burnt branches and breathed in the smoke, putting themselves into a trance like state which apparently heightened their perception. In this state, they could forewarn against the onset of danger. If you pull this card out while using this Oracle, it is said that you're protected.
Personally, I just love the contrast of the scarlet red berries and the deep green. Little did I know that it is also associated with life and death. It has a strong connection with Greek Mythology (It is said that the Rowan Tree grew from where the blood of a sacred eagle, sent by Zeus to reclaim the cup of the gods, fell) as well as one or two Scandinavian myths, one involving Thor. I knew that Brigid of the Irish realms was associated with the Rowan but this is the first I've heard of Brigantia.
So, with the Rowan tree branches, wrapped in red ribbon, hanging above our doorways, what do you need from the Rowan tree this week? Do you need its protection? Do you offer protection? Do you need to call on Zeus, Brigid, Brigantia, Thor or on the Druids themselves? The Rowan tree is not yet out of hibernation from the recent winter, but you can find one pretty much anywhere. Look in the churchyards: a good place to start.
However, I will strongly suggest you start with protecting yourself.
Green Man Tree Oracle : Rowan ~ Luis