Green Man Tree Oracle : A good beginning leads to a good conclusion
The Oracle card this week is the Birch. I often see the birch in the park in the mornings, even in the depths of winter, they're one of the easiest trees to spot, especially the silver birch's with their white barks.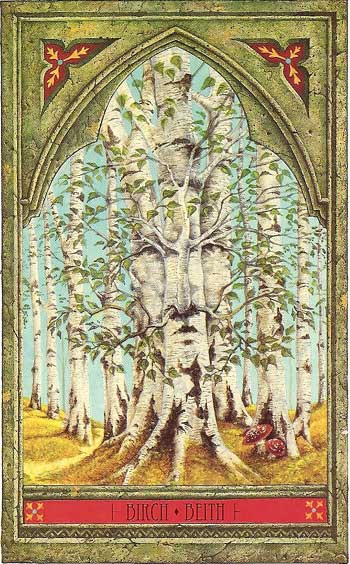 This card hints strongly at new beginnings, how we approach a new task is just as important as the eventual outcome. The wisdom here is quite specific: make a good start and whatever you are undertaking will end well.
Birch was and still is used to drive out evil spirits and return to sanity those who had been driven mad. It's associated with Samhain, (1st November) which is the Pagan New Year: hence the new and fresh start connection. It's also one of the first trees to flower at this time of year, spring.
Since I have pulled this card for this week, you and I might also wish to rethink about new enterprises and ensure that they're a clean and fresh new start.
Birch branches have had a lot of use over the years, some good, some not so good, according to the lore. Birch branches were used to beat the devil out of children (and perhaps punish them as well), but the phrase "birching" still exists. Birching was also used on land to clear away evil spirits and birches were used to mark the boundaries between land owners. Birch is also the wood traditionally used to make broomsticks or bessoms for witches, who claimed that the light within the wood helped them to fly. (Is that why mine does not work?! haha!)
The tree has a title, "Goddess of the Woods" which reflects its willowy and fluid form. It's linked to Venus, Frigga, Freya, Blodeuwedd and lastly, but not least, Ariadne.

Beith, the Ogam for Birch, is rather special, for it is said that the first message ever written was beith. It was used to warn the sun-god, Lugh that his wife was being taken into the realm of the sidhe, or faery folk.
So, what does all this say to us this week? That we should look for the signs of luck, good fortune and prosperity everywhere. I shall look for it in the park during the week when I am out with the dog and children and I shall enjoy watching it bud. Should it snow this week, I hope it does not stick! Use the Birch to cleanse the way before new undertakings. I think I need to go and get my bessom!
Green Man Tree Oracle : Birch ~ Beith