Green Man Wisdom : From sacrifice comes restoration
The Oracle card this week is a tree I actually recognise the name of, but would not (again!) know it if I came across it in the park whilst walking the dog or encouraging the toddler to burn off some of that exuberant energy they have at two and a half!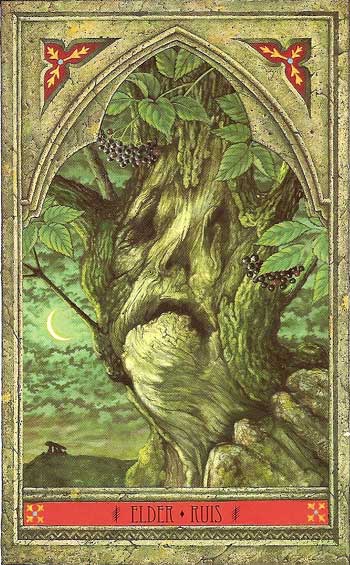 The key divinatory meaning with this card is sacrifice. Not giving up something in the sense of a martyr, or out of fear or appeasement, but in the sense of sacrificing something to make space in our daily lives for the divine. Sacrifice is a way of being generous and unselfish, giving to the whole of the universe. However, I feel we have to start with ourselves, before we can give out. If we're not being generous to ourselves and allowing ourselves to be restored, we can give nothing back to the Divine.
There may be things to loose, but there is plenty more that might be gained from the Universe, often in greater measure or better for it. This might also mean a change in direction, but it could be that you'll be blessed may times over.
The Elder tree has strong associations with Witchcraft (which is why and where I know it from) and transformations here in Britain. Basically, witches were good at transforming themselves into Elders, which gave the witches even more strength. There is a story (a new one on me, but it's in the book that comes with the deck, page 78) about an elder-witch who turned a Danish king and his followers into stone for daring to challenge her. Apparently, this happened in Oxfordshire and they're called the Rollright Stones. You can find out more about that story here at the Myths and Legends site.
In Christian tradition, it was an elder tree that gave the wood for the cross that Jesus was crucified on and is also the tree that Judas Iscariot hung himself from in contrition over his betrayal of Jesus. It gives the whole "bad" image to the elder tree. Especially when you have the myth that living in the shadow of an elder tree indicated that children might die young. Balderdash!
There are some great Wiccan traditions linked with the Elder tree though, especially with protection against dark magic. It is said that if you collect twigs from the Elder tree on St John's Eve (the day before midsummer) they are a protection against any bad luck that may surround the 12th night celebrations. However, there is a caveat with this tradition: something has to be given up by those who wish to benefit from the Elders power.
So the theme for this week is to think about what you don't need in your life. Too many Facebook friends that you don't really know, the clutter and clothes around the house that you don't really need. Is it time for a cull? A clear out, a spring clean? Also, who around you do you not need? Would you benefit from having these people, things and clutter no longer in your life? It is up to you, but it is worth wondering what you will sacrifice before you give it up. Think of a balance, a set of scales. What can you give up that you do not need, what can put in the space that you do need? Enjoy thinking on that this week and I hope you enjoy your spring cleaning, and not just of the house!
Green Man Tree Oracle : Elder ~ Ruis