Green Man Tree Oracle : Destiny Moves Us To Do Great Things
The Oracle Card this week is not a tree I've ever heard or seen of, but that is nothing unusual. It is part of the reason I like using this deck: I get to learn and share and I like hearing back from people about their view points. It's great!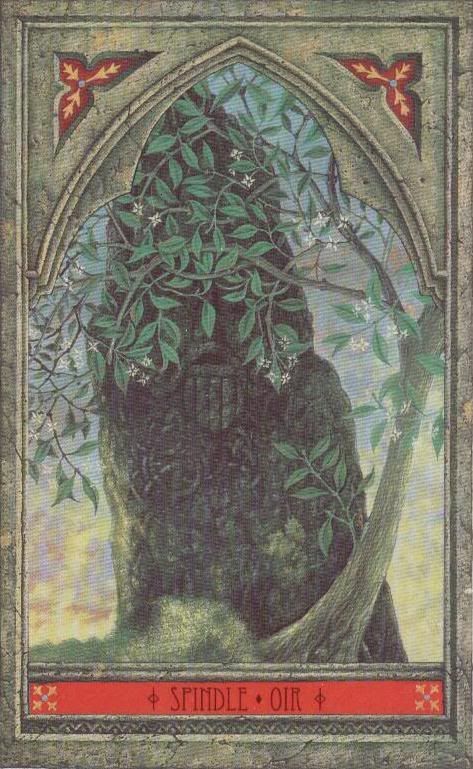 But back to the Oracle card for this week. In Divination terms, this reminds us that things are not fixed, they're not set in stone. Like a spider that spins a web, they spin what they need in the shape that they need it, they don't think about it, they just do it however big they need it.
The Spindle tree itself is of interest. I had heard of spindles, as in, the weaving machines, I did not realise that it came from a tree and that is why it is called Spindles: until now. There's my newest lesson for this week!
Now, the Spindles from Norse (Norns) and Greek Mythology (Fates) all stem around spinning the fabric of life, ending the fabric of life, starting it off again.
Spindle reminds me of a movie with Angelina Jolie, James McAvoy, Morgan Freeman and Terrance Stamp. It is called Wanted and it has the theory of the fabric of life being woven and changed.
Beyond the movies of Hollywood, you have the association of childbirth, since it is also related to the starting of the fabric of life. It is also possible that the Fates (thinking Greek Mythology here) wove the destiny for every child before it is even born, with the Fates themselves sometimes assisting at the birth of Heroes. Thinking Hercules and Perseus here: as usual, Zeus acts like all women are for his pleasure and nothing else.
The whole idea of spinning is important: the Goddess Hecate leading Persephone's mother, Demeter, to her daughter. Ariadne spun a thread of red wool to help Theseus escape from the Minotaur.
I've never seen a Spindle tree, I'm not even sure if you can get them here in the UK, but if you're not sure, here's a link to an image of one in flower. I shall certainly keep my eyes out for one this week in the park. The Ogam is of interest, it's like a square on its point with a line through it vertically.
So this week, my hunt is for the Spindle tree, while remembering that Athena and Neith were master spinners, they were also rather sore losers!
Green Man Tree Oracle : Spindle ~ Oir