Green Man Wisdom : Fertility wakes a fire in the mind
I often associate Gorse with the Scottish Highlands. I recall camping up there one spring and seeing the lowlands just covered in the yellow golden gorse. I had been away for a long time and had totally forgotten what gorse in flower looked like.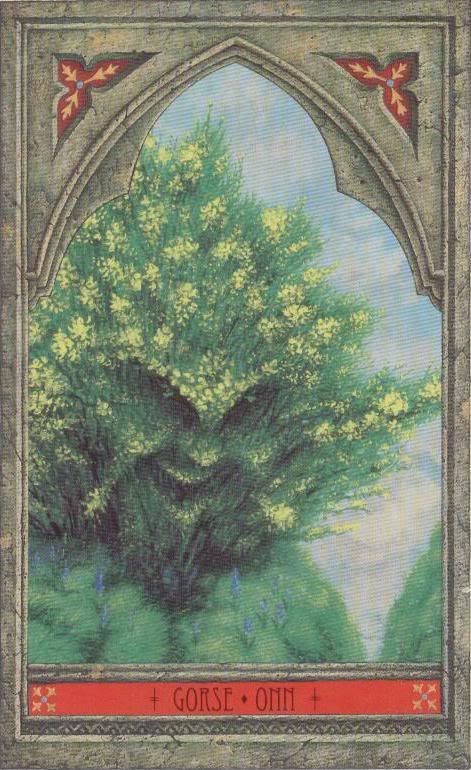 I've just read the book on gorse and my first thoughts, before I had read the first paragraph, was: We've just covered this in the latest Tarot Blog Hop!! I hadn't associated Gorse with fire, mental stimulation, fertile thoughts or anything along those lines.
Gorse though, is damn vigorous. I think I've some growing between my greenhouse and the log pile. So now, when I look at it, I shall remember that it is supposed to encourage us to listen to our creative instincts and to tend the fertile garden of our imagination. John claims that we can find happiness and the answer to all sorts of problems this way! The only thing is, I have trouble now, working out which voices in my head are my guides and which one is my own! I feel my guides more than I hear then, hence why I said what I did above. And if you think I ought to be in the loony bin, too late, I was born in one! (Well, it wasn't one when I was born in it, but it became a psychiatric hospital after I was born, 1982 I think it changed uses. It's been flattened now in the re-modelling that is, Glasgow)
I notice that the Ogham is Onn, or O and has links to Lugh,  hence the festival on Lughnasadh, or August 1st. People sometimes take sprigs of gorse and put them in the fires to brighten up the fireplace and with its bright yellow flowers, remind them of the warmth the hearth will give out over the winter.
Lugh though, by all accounts, was a jack of all trades. I wonder if he was a master at any? King or not, he certainly seems to have tried his hand at almost every aspect of life! I shall read up on him another day during the week. I knew Gorse was associated with keeping the wee faery folk away: its said that they hide in it on the magical May eve (not long gone)
So, this week, what are you going to do to cause that internal, intellectual flame, to burn? I wasn't aware that Gorse flowered most of the year, but I do love it when I see its yellow brightness as its scattered along the motorways! So, enjoy what sunshine you can this week and if you cannot, light the home hearths and enjoy the intellectual stimulation. I know I shall!
Green Man Tree Oracle : Gorse ~ Onn