Welcome to my Tarot Blog Hop entry. I hope you enjoy my entry to this latest Hop. My thanks of course to the wonderful person before me, who is Morgan who runs the Gleamings from the Dawn blog. You can click on the blue button to the left to visit his entry.
The subject for this blog hop is "The fire tends to all" and because this is the time of Beltane, I'm not surprised that we're getting to know fire at this point of the year, that's what Beltane is all about. But what is Beltane? For me, that is the start of summer, when the weather warms up and the frosts cease. It's when we as humans can lift our heads high to the warming sun and say: Hello world! and probably truly mean it.
The Tarot card that makes me think of being all warmed up and in a nice summer dress, is this card, the Sun of Life. Of course, I'm not going to use any other deck than the Wildwood, but the Druidcraft makes me feel like this too. I still recall the hot summer of 2006. I was heavily pregnant with my eldest child that summer and I baked! However, this card from the Druidcraft kept coming up. Everything grew and expanded that summer and I recall fondly just pottering about and in the heat of the middle of the day, relaxing in the house, the fan blowing over me and my feet up on the largest sofa, dozing or watching the birds in the garden with the dog by my side on the floor, heavily pregnant.
It is not just the weather that can make someone feel like that. It can be done internally, it can be triggered by someone being nice to you, restoring your faith in humanity and it can also be created by you being nice to others. The spark that is within us all burns, even if we think that it does not. However, how brightly that spark burns, or not, can depend upon others. The phrase for the blog hop is: Fire tends to all. And it can. We use fire in its various physical forms, from cooking, hot water and barbecues. But there is a fire of friendship, family and nurturing that tends to us all too. I think of Beltane as all those elements coming together: a way of making you feel warm, safe, loved and appreciated.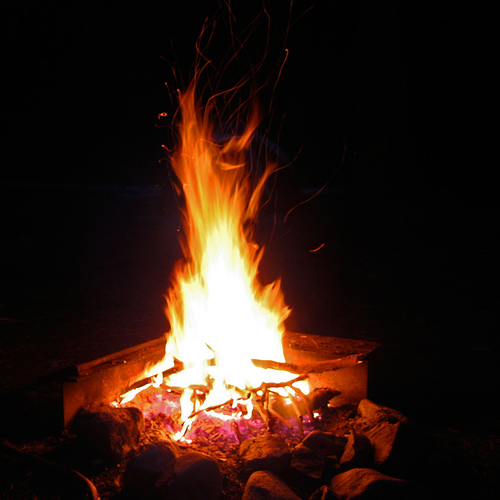 As  I was writing this, Adele's song, "Rolling in the Deep" came to my mind, especially the phrase: "We could have had it all". This is what Beltane makes me feel like: like we could have had it all. Any and all possibilities are ours, if we tend to our own inner fires as well as that of family and friends. Whether you jump over burning logs in a Beltane ritual, or celebrate with your lover in the way that lovers do, I wish you much warmth and security this Beltane.
I find that I smile as I see the Hawthorn and other spring trees in bloom. Like this fire, it warms the cockles of my heart to know that things are warming up, that the fire of summer is tending to us all. Even if it is accompanied by some typical April showers.
Now, the blog hop after me is Amy Lamash from Hudson Valley Tarot.
I hope you enjoy her post.
If for some reason, the hop does not work, you can see everyone's entire hop via the link below:
The Fire Tends To All ~ Tarot Blog Hop