Green Man Wisdom ~ Defence keeps clear the territory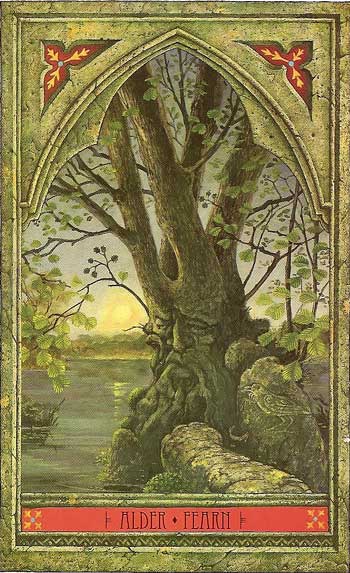 This week, the tree for protection and defence come out to join us. It's assigned to the fourth month in the Celtic Tree Calendar (March 18th – April 14th) and comes to us not a moment too soon, judging by some of the stuff I'm hearing and reading from friends!
It would not surprise me to find that quarter staffs were made from Alder branches, given how strong they are, that they're used for protection and defence. The trunks of alder trees were often used in town wall defences in Norman times (if I recall my history lessons of Norman forts and castles correctly) so the whole defence thing comes out in force.
You yourself know when your territory and authority are being challenged. Your instincts create a flight or fight mentality: If you don't find, fight and defend your own power, you're dishonouring yourself as you're giving it away. Hand it to your adversary on a plate.
The Ogham for this card is also rather aggressive. It's stabby, fork like, almost like three arrows being fired off at once. Here it is, off to the right.
For me, this tree makes me smile. I so want to pick up a staff and bash people about the head. At this time of Mercury Retrograde, it's not that hard to see why the lines of communications are screwed up. However, it's what to do about them, if you do anything at all, beyond shutting the door. If you do plan on doing anything, I'd wait until after the 26th of this month, (another week and a day) before doing anything.
The alder gives us the personal strength to face up to the things we've been avoiding. If you've buried your head in the sand, the Alder comes to give us a swift kick up the rear to get us moving. Alders grow near water, they nourish the soil and if we let their energy nourish us, we can then see how they can protect us. Their sap, a rusty colour, has been used for years by spinners and weavers as a dye, it reminds me a little of henna when its been removed and leaves behind a rich pattern.
So this week, I feel that the Alder lends to us its ability to bleed, to be generous with giving of ourselves but when the proverbial starts being taken, you have the right and the power to defend yourself. Use it wisely!
Green Man Tree Oracle: Alder ~ Fearn