Green Man Wisdom ~ What lies beyond the threshold?
I've remembered to post up the Green Man Oracle for this week, which is rather good!  I've been reading about the Beech tree from the book. To start with, I didn't know that it was the "Queen of The Woods", the partner if you will, to the more male Oak tree.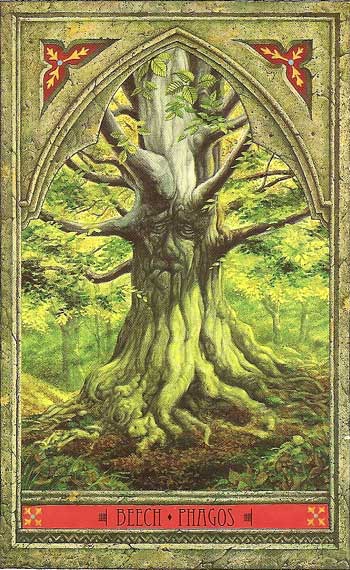 The Beech tree is all about thresholds, crossing over, stretching yourself, not staying with the known and familiar. Refusing to confront what lies beyond the threshold can cause a stagnant condition. The Ogham for this card is interesting too. That's the small, grid like image to the right (over there) whilst the image to the left is of the card itself.
The gift of the Beech Tree Oracle in a reading suggests that the challenge that lies across the threshold is met. In doing so, you will gain experience from the unknown. Also, at this time, seek revelation and increase your knowledge.
I found it rather syncretistic that when I write-up this post, images of a Lenormand deck in production by the same artist as the Green Man Tree Oracle, (Will Worthington) are being shown to me via Facebook. Specifically, the Snake card. I know nothing about the Lenormand, but one of the images in particular made me shiver.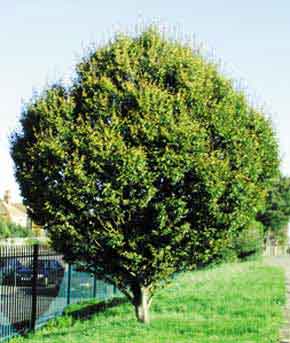 Then I re-read the book to find that the Beech tree is associated with serpents, according to British tradition, because of the type and design of the root systems Beech trees have. It is said that no traveller would come to harm if they sheltered beneath the branches of a Beech tree. Despite the fact that Beech canopies are quite thick, I do wonder what other protection they provide.
Throughout history, Beech leaves have been used in various things, including making paper and the first book, which fits with the Beech's association with transmission of lore. It's also interesting that the French used Beech leaves to stuff mattresses in France until the early part of the 19th Century, which is why the soft whispering noise they made were called "speaking beds". Sleeping on one of these after asking a question before one went to sleep, meant that the sleeper would receive a wise answer in the night.
I think that the sleeper was more susceptible to remembering their dreams if they knew they were sleeping on a "speaking bed".  Nothing like getting their mind-set for remembering their dreams.
So this week, the message is to listen, meet any challenges head on, cross that threshold, don't hold back. What a message for the week!
Green Man Tree Oracle: Beech ~ Phagos