Green Man Wisdom : Seek an Overview
It has been some time (June I think) since the wisdom of the Green Man Tree Oracle has come to join us here in The Wildwood. To be fair, I've not picked the deck up because I tidied it away and it took the Riviera Tarot Conference to get me to pull it back out again.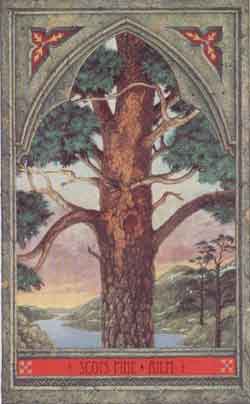 Since today is the 1st of November, I'd like to say: Happy All Saints Day. It's not just a Christian belief, it's a Pagan one too and whilst there may be some argument as to whether one came before the other in this region of the world, I frankly don't really care! (In the tone of Mavis from Corrie)
The Green Man Tree Oracle offers us the following for November. I can hardly believe it is November already. Where has the year gone?! I seem to have done a 4 of Arrows and just slept, though I know fine well I have not. I may have blinked though!
I read from the book that the Celts considered it especially appropriate to burn a Scots Pine Log on the night of the Winter Solstice, which is Yuletide. That's not for about 7 or 8 weeks yet (no, I don't want to know how many more sleeps there are left until Christmas, thank you!)  The burning of the Scots Pine Yule Log is pretty wide-spread and it's burned in order to establish family luck for the coming calendar year.
So for this month, the message is one of resurrection and eternal life and hope. There's a lot of reasons, myths and legends as to why the Scots Pine tree is also forever green. However, the green the Scots Pine tree (or indeed, any evergreen) gives to any landscape is one to be grateful for, as the other trees shed their leaves. I love kicking through autumns golden gown at this time of year.
So for this month, enjoy life, keep a candle of hope burning and please, if you need to, wrap up warm!
Green Man Tree Oracle : Scots Pine ~ Ailm