It's midweek and instead of the Tarot reading (which happened on Sunday) I've pulled a Power Animal Card and we're joined by the Kangaroo, who is grateful.
Today, the fantastic kangaroo comes out to join us and she is here to remind us that we need to be grateful for all that we are blessed with.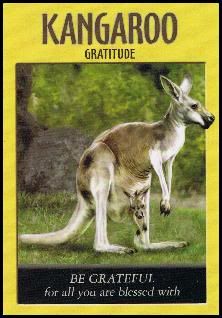 It's hard to remember the good things we have when things start (or are) going wrong. We focus on the negatives, rather than the positives (thinking of the 5 of Cups) because of how we've had the "material world" drilled into us. I now have part of one of Lilly Allen's tracks (The Fear) going through my head. Not one of my usual clairaudiance visitors, but hey, she sums it up rather well (even if she swears a lot in her songs;) )
"Thou shalt not want". How often do we hear that? Does it mean we can't want for things, like new clothes? A working washing machine? No… just that we shan't want for the basics of life. Air, food, water, shelter and importantly, love. If you're lacking in any of these, be grateful for what you do have whilst you search for the aspect that's missing.
What we think is missing, may not actually be. It could be that we haven't consciously acknowledged it, that it is sat right in front of us (like the Kangaroo's pouch) but we need help to realise that the gift is right there.
What do you need to be grateful for? Friends? Family? The friends that are more family than family? Do you need a hug? We are allowed to say, thank you, no thank you, help me, love you, hug me please. The words that are the hardest to say are often the most important and the ones we need to say the most.
Count your blessings today. I know I do and shall, but I always count my husband twice 😉
Image linked from CrystalWoman's site on Photobucket, but the card is from Stephen Farmer's Power Animal Oracle Cards.
Weekly Power Animal : Being Grateful